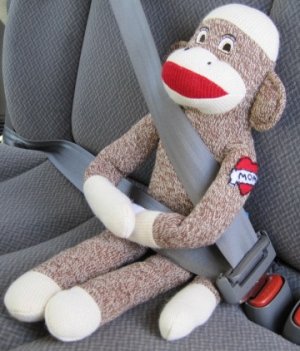 The sock monkey is featured in the Kia Sorento Super Bowl 2010 commercial/ad video are Sock Monkey, Muno (from Yo Gabba Gabba), and friends robot, teddy and Mr. X. This now infamous commercial is were Sock Monkey gets his tattoo!

Here we are offering you Maxx The Sock Monkey with a handmade MOM tattoo like the famous KIA commercial, where he rides a bull and jet ski and gets his MOM tattoo. His tattoo is felt that is handstitched in place. MOM is also handstitched. He is 18" tall.

This is a my version of the tattoo on the sock monkey a look-a-like to the one in the commercial.